[icon image="fa-trophy" size="medium" color="#0083d1″ animation="no-animation" scroll_animation="disable" delay="0″ spin="false" background_color_1="#ffffff" background_color_2="#ffffff" background_size="40px" border_radius="100%" margins="0 15px 0 0″ align="alignleft"]
Quality Design and Components
Quality is our priority for every project. We build your system to last by considering every detail during design and choosing only the best equipment.
[icon image="fa-user" size="medium" color="#0083d1″ animation="no-animation" scroll_animation="disable" delay="0″ spin="false" background_color_1="#ffffff" background_color_2="#ffffff" background_size="40px" border_radius="100%" margins="0 15px 0 0″ align="alignleft"]
Personalized Design
We understand that every project is unique and has very specific needs. Our team will work with you to design a system that is personalized to meet your goals and requirements.
[icon image="fa-wrench" size="medium" color="#0083d1″ animation="no-animation" scroll_animation="disable" delay="0″ spin="false" background_color_1="#ffffff" background_color_2="#ffffff" background_size="40px" border_radius="100%" margins="0 15px 0 0″ align="alignleft"]
Maintenance
Our involvement doesn't end once your system is installed. We provide ongoing maintenance to ensure that your system continues to meet your needs.
Would you like to view our Battery Storage Products?
[button text="BATTERY STORAGE" text_color="#ffffff" text_size="14px" background_color="#0083d1″ border_radius="3px" width="auto" padding="14px 20px" classes="pat_call_button" link="/product-category/battery-storage/"]
Battery Storage
Battery Storage systems can be designed in a variety of different ways to suit applications including solar/wind energy storage, emergency backup power, peak load shaving, and many more. Regardless of your application, Advanced All Energy is able to provide you with a battery storage solutions to suit your requirements. We work with you on every step of the process: analysing your energy storage needs, evaluating energy generation options (e.g. solar, wind, generators), incorporating grid-connectivity where required, and integrating your existing equipment where possible.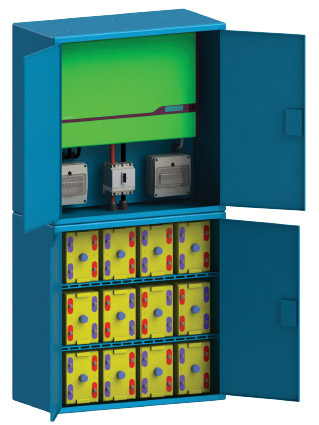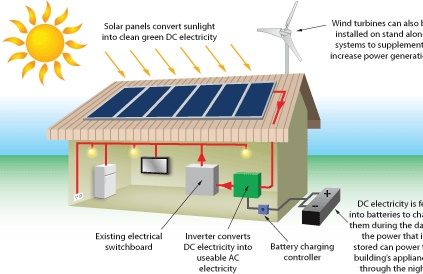 Solar/Wind Battery Storage
Solar and wind energy systems are one of the primary applications for battery storage. Advanced All Energy can supply everything you need for these systems including the solar panels, chargers, inverters, and batteries. Our systems typically fall into one of two different categories: off-grid or hybrid.
Off-grid (or standalone) systems are designed to be entirely independent of the electricity grid and all energy that is used must be generated locally, often with solar panels, wind turbines, and fuel-powered generators. During the times when the solar panels or wind turbines are generating electricity, the batteries are being charged. Then, when there is no sun or wind, the batteries supply the electricity as required. When designed properly, a system like this can provide all the energy needs for your business or home year-round.
Hybrid systems are designed to operate in conjunction with the electricity grid, utilizing solar or wind power to save you money on your electricity bill without requiring the investment needed for a fully off-grid system. With rising power prices and poor grid solar feed in tariffs, hybrid systems are becoming a viable option. Instead of feeding your excess solar during the day into the grid at below market rates, all the extra solar power you generate is used to charge your batteries. At night when there is no solar power, the batteries will provide the energy you need instead of relying entirely on the electricity grid. At the same time, you have the confidence that comes with being connected to the electricity grid in case you occasionally need more energy than you generate. Along with blackout proofing your property, this gives you the flexibility and advantage of storing your excess solar energy when it suits you.
[button text="Request one Today!" text_color="#ffffff" text_size="14px" background_color="#0083d1″ border_radius="3px" width="auto" padding="14px 20px" classes="pat_call_button" link="/request-a-quote/"]