Home Units / Small Homes
SMA SUNNY BOY 1.2Kw - 1.7Kw - 2.5Kw - 3Kw


 The completely redesigned SMA Sunny Boy  1.2kw - 3kw
Product Description
It's so easy to reap the benefits of solar power: The completely redesigned Sunny Boy 1.2kw - 3kw is the perfect inverter for customers who want to take full advantage of their small PV system. Among other features, it enables an increase in consumption of self-generated power, allows versatile uses, and is very easy to integrate into the home network. In addition, its innovative design and new communication concept offer many advantages during installation and commissioning. Thanks to direct communication with the SMA Energy Meter, both limitation to 70 percent, which is required in Germany, and limitation to 0 percent is possible.
Easy commissioning and monitoring
The intuitive user interface allows you to commission the inverter and monitor system data on your smartphone, tablet, laptop or conventional PC.
    Fast and easy commissioning via integrated webserver
    System data can be monitored on all smartphones and tablets
    Choose between local and online monitoring via Sunny Portal and Sunny Places
    Factory-integrated Ethernet and WLAN interface
    Professional Monitoring via Webconnect with the Sunny Portal Professional Package
Small, light and future-proof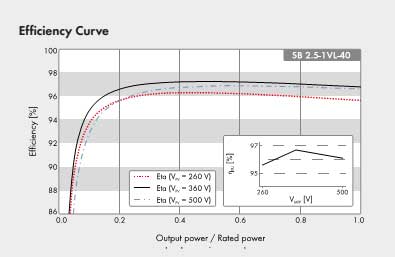 In 1.2kw - 3kw power classes, the Sunny Boy is ideally suited to solar power generation in private homes.

Thanks to its extremely light design and the modern user interface, the device can be easily and quickly installed. Current communication standards make the inverter future-proof, meaning SMA storage solutions and SMA Smart Home can be added at any time.
    Secure plug-and-play installation without opening the inverter
    High system design flexibility: suitable for more module types and complicated rooftops
    Compact and lightweight design (< 9 kg)
    Integrated webserver for easy commissioning and local monitoring
Technical Data: Sunny Boy 1200 - Sunny Boy 3000
Technical data

Sunny Boy 1200

Sunny Boy 1700

Sunny Boy 2500

Sunny Boy 3000

Input (DC)

Max. DC power (@ cos ϕ = 1)

1320 W

1850 W

2700 W

3200 W

Max. DC voltage

400 V

400 V

600 V

600 V

MPP voltage range

100 V – 320 V

147 V – 320 V

224 V – 480 V

268 V – 480 V

DC nominal voltage

120 V

180 V

300 V

350 V

Min. DC voltage / start voltage

100 V / 120 V

139 V / 180 V

224 V / 300 V

268 V / 330 V

Max. input current / per string

12.6 A / 12.6 A

12.6 A / 12.6 A

12 A / 12 A

12 A / 12 A

Number of MPP trackers / strings per MPP tracker

1/2

1/2

1/3

1/3

output (AC)

AC nominal power (@ 230 V, 50 Hz)

1200 W

1550 W

2300 W

2750 W

Max. AC apparent power

1200 VA

1700 VA

2500 VA

3000 VA

Nominal AC voltage; range

220, 230, 240 V;

AC grid frequency; range

180 V – 265 V

Max. output current

50, 60 Hz; ± 4.5 Hz

Power factor (cos ϕ)

6.1 A

8.6 A

12.5 A

15 A

Phase conductors / connection phases

1

Effiency

Max. effiency / Euro-eta

92.1 % / 90.9 %

93.5 % / 91.8 %

94.1 % / 93.2 %

95.0 % / 93.6 %

Protection devices

 
 
 
 

DC reverse-polarity protection

●

ESS switch-disconnector

●

AC short circuit protection

●

Ground fault monitoring

●

Galvanically isolated / all-pole sensitive fault current monitoring unit

●/—

Protection class / overvoltage category

I / III

General data

Dimensions (W / H / D) in mm

440 / 339 / 214

Weight

23 kg

25 kg

28 kg

32 kg

Operating temperature range

–25 °C … +60 °C

Noise emission (typical)

≤ 41 dB(A)

≤ 46 dB(A)

≤ 33 dB(A)

≤ 30 dB(A)

Internal consumption (night)

< 0.1 W

< 0.1 W

< 0.25 W

< 0.25 W

Topology

LF transformer

Cooling concept

Convection

Electronics protection rating / connection area (as per IEC 60529)

IP65 / IP65

Climatic category (per IEC 60721-3-4)

4K4H

Features

DC connection: SUNCLIX

●

AC connection: screw terminal / plug connector / spring-type terminal

—/●/—

Display: text line / graphic

●/—

Interfaces: RS485 / Bluetooth®

○/○

Warranty: 5 / 10 / 15 / 20 / 25 years

●/○/○/○/○
Technical Data: Sunny Boy 1500 - Sunny Boy 2500
 
Input (DC)

Max. DC power (at cos φ = 1) 1600 W | 2650 W
Max. input voltage 600 V
MPP voltage range 160 V to 500 V |  260 V to 500 V
Rated input voltage 360 V
Min. input voltage / initial input voltage 50 V / 80 V
Max. input current 10 A
Max. input current per string 10 A
Number of independent MPP inputs / strings per MPP input 1 / 1

output (AC)

Rated power (at 230 V, 50 Hz) 1500 W | 2500 W
Max. apparent AC power 1500 VA | 2500 VA
Nominal AC voltage 220 V / 230 V / 240 V
Nominal AC voltage range 180 V to 280 V
AC power frequency/range 50 Hz, 60 Hz / −5 Hz to +5 Hz 50 Hz,
Rated power frequency/rated grid voltage 50 Hz / 230 V
Max. output current 7 A  |  11 A
Power factor at rated power 1
Adjustable displacement power factor 0.8 overexcited to 0.8 underexcited
Feed-in phases/connection phases 1 / 1 1 / 1
Effiency
Max. effiency / European weighted effiency 97.2 % / 96.1 % |  97.2 % / 96.7 %
Protective Devices
DC-side disconnection point Yes
Ground fault monitoring / grid monitoring Yes
DC reverse polarity protection / AC short-circuit current capability Yes
All-pole sensitive residual-current monitoring unit Yes
Protection class (according to IEC 62103) / overvoltage category (according to IEC 60664-1) Yes
Reverse current protection Not required
General Data
Dimensions (W / H / D) 460 / 357 / 122 mm (18.1 / 14.1 / 4.8 inches)
Weight 9.2 kg (20.3 lbs)
Operating temperature range −40 °C to +60 °C (−40 °F to +140 °F)
Noise emission, typical <25 dB <25 dB
Self-consumption (at night) 2.0 W
Topology Transformerless
Cooling method Convection
Degree of protection (according to IEC 60529) IP65
Climatic category (according to IEC 60721-3-4) 4K4H
Maximum permissible value for relative humidity (non-condensing) 100 %
Features
DC connection / AC connection SUNCLIX / connector
Display No
Interfaces: Webconnect, WLAN
Integrated web server Yes
Warranty: 5 years
Certifiates and approvals (others available upon request) AS4777.3, C10/11/2012, CEI0-21Int, EN50438, G83/2, IEC61727, IEC62116, IEC62109, NBR16149, NEN-EN50438, NRS097-2-1, VDE-AR-N4105, VDE 0126-1-1, VFR2014
Type designation SB 1.5-1VL-40 SB 2.5-1VL-40