Top of the Class
LEDified LEDs are subjected to the most onerous testing standards in Australia.
Less is more
You can't argue with math: LEDified lights use up to 89% less energy than traditional lights.
Let there be light
Tap into Government Incentives to upgrade your lights to LEDified LEDs.
Light years ahead
They last up to 20 times longer – in many cases it will be the last light bulb you change!
Clean for over 30 years
LEDs dont contain harmful chemicals such as mercury. Mum would be proud.
Less Heat
LEDs create less heat – this in turn can help reduce cooling costs and minimise the risk of house fires.
Saves you money
LED Transformers use far less energy than standard 50w Electronic ones.
LED Lights produce more light per watt than incandescent bulbs
LED lighting produces 64% less heat than a standard halogen globe.
Environmental
LED Lights contain no hazardous mercury.
LED lighting produce no harmful UV rays.
LED lighting produces 64% less heat than a standard halogen globe.
LED lighting creates far less carbon emissions.
Maintenance
LED Lights have a usage life of up to 50,000 hours, up to 50 times that of a standard halogen globe.
Lights that pay for themselves
You recoup the purchase cost of LED bulbs with your energy savings. The return on investment differs depending on light usage, your cost of electricity and the initial cost of the LED lights.
To calculate the operating cost of lighting, we use the following formula; Multiply the bulb wattage by the daily hours used, then divide by one thousand (1000) and multiply by your local utility cost per kwh.
Here's an example of comparative running costs between a 50w halogen and a 10w LED.
Halogen: 1 x 50w x 6 hours per day divided by 1000 x 0.30kwh
= $0.09 per day x 365 = $32.85 P/A
LED: 1 x 10w x 6 hours per day divided by 1000 x 0.30kwh
= $0.018 per day x 365 = $6.57 P/A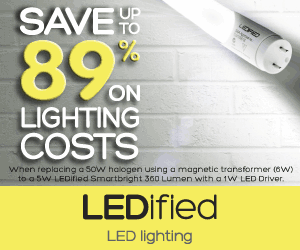 Lighten your overheads
For commercial premises, lighting accounts for 18 to 40 percent of electricity consumption. The financial benefits of upgrading to LED lighting are impressive. LEDs represent one of the easiest ways to significantly reduce operating costs. The phase out of inefficient lighting is expected to save around 28 million tonnes of green house gas emissions between 2008 and 2020. This is equivalent to taking more than 500,000 cars off the road.